16 Week Marathon Finishing Time Goal Training Plans
Regular price

Sale price

$27.00
Are you ready to take on the ultimate challenge of running a marathon? Do you want to push your limits and achieve your dream finishing time?
Look no further than these 16-week marathon finishing time goal training plans!
These 16 Week Marathon Training Plans are designed to help you achieve your desired finishing time with a comprehensive training schedule.

Here's what you can expect:
Your complete 16 week training schedule will include 4 to 5 running days each week with 2 rest days.
Each week will consist of a mix of:
running workouts,
strength or speed training workouts,
a long run and
recovery days
Each training day will build on and work together with the other training days to help you build endurance, improve your speed, and prevent injuries.
These training plans are divided into training blocks which include:
a 2 week block of base building,
4 week block of strength building,
8 week block of speed training,
2 week prep and taper.
This will ensure that you make steady progress throughout the program and peak at just the right time for your marathon race day!
Inside the training plan you will be provided with all of the workouts you will need achieve your finishing time goal.
The workouts included are:
strides,
hill sprints,
hill repeats,
intervals,
tempo runs,
progressive long runs,
goal pace long runs
I also provide you with a breakdown of training paces that you need to run and train at in order to achieve the time goal that you are training for. 
To ensure that you're pacing yourself correctly, you will be provided with tips on pacing yourself for your time goal. These tips will help you stay focused and energized throughout the race and help you achieve your desired finishing time.
Finally, you will find tips on how to modify each training plan based on your personal preferences and needs. I understand that everyone is different, and I want to make sure that you're able to tailor your training plan to your unique needs and preferences.
Who These Plans are For: 
My 16 Week Marathon Training Plans are designed for:
runners who have prior experience with running,
particularly those who have completed a previous marathon OR
have been running consistently for at least 6 months to 1 year
To ensure that you're able to successfully complete the program, I recommend that you're comfortable running:
about 6 miles (6-10 km) AND
are able to run 15 to 20 miles (about 32 km) per week.
This will provide you with a solid foundation to build upon and ensure that you're able to safely & effectively progress through the training plan.
While we offer 7 finishing time goal training plans to help you achieve your desired finishing time, we don't recommend setting a specific time goal for your first marathon (see the Run Your First Marathon Training Program instead). 
Sign up today (no really, go sign up for that marathon right now after you decide on your finishing time goal training plan!) and start your journey towards becoming a super successful and speedy marathon runner!
You Will Receive
Share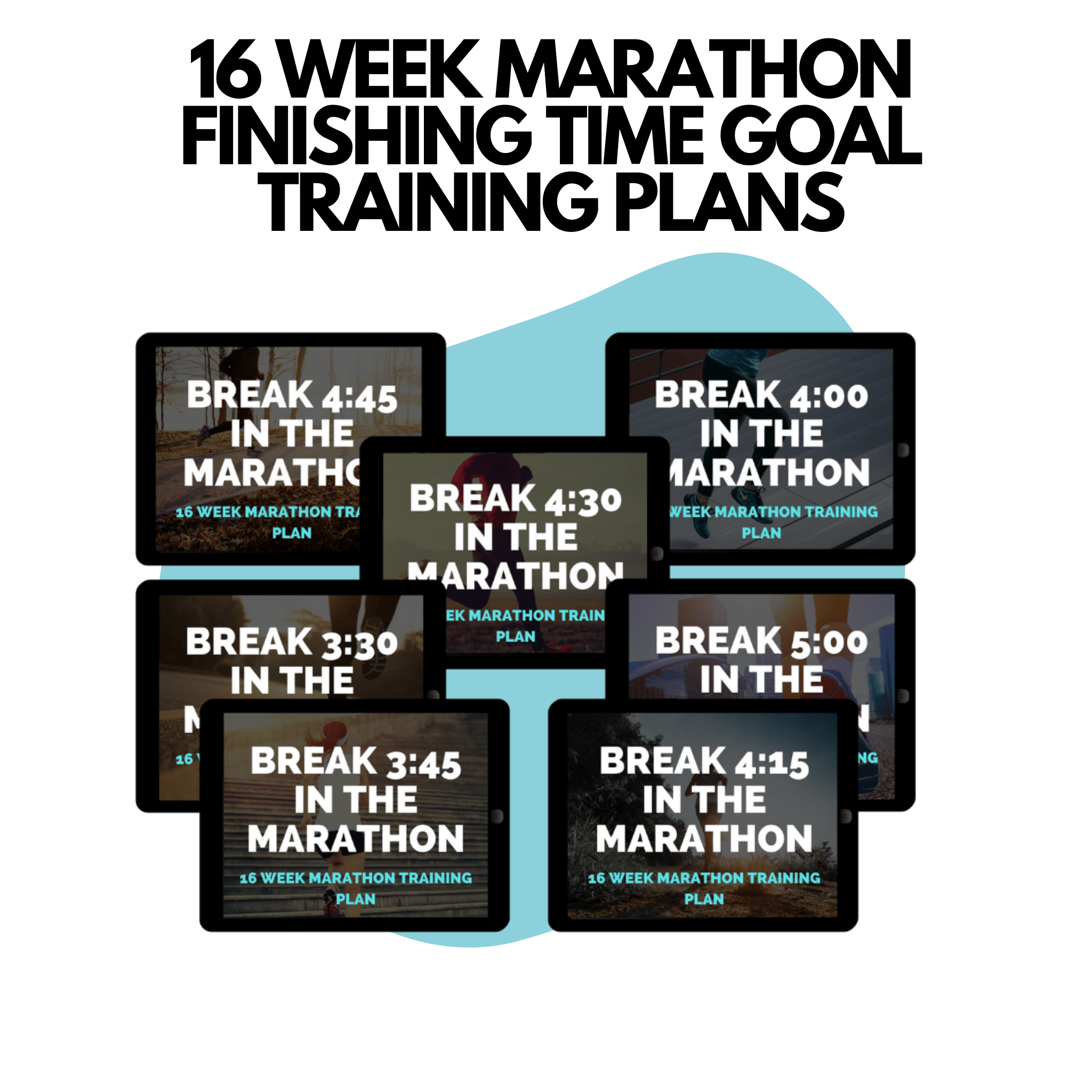 Acheived goals higher than I thought possible with this training plan!
I used your training plan to run a marathon in under 3:45:00! I ran a 3:41:12 in Columbus, Ohio, this past weekend. Thank you so much for all the training content you provide - it made all the difference in my training and especially my confidence in reaching goals set higher than I thought myself capable of achieving!