16 Week Beginner Marathon Training Plan + Tools & Trackers
Regular price

Sale price

$27.00
Get ready to achieve your marathon finish goal with this 16 Week Beginner Marathon Training Plan!
Running a marathon is an incredible experience that pushes your limits and brings an unmatched sense of achievement. This specially designed plan takes you from beginner to marathon finisher in just 16 weeks.
Tailored for beginners, the plan gradually builds your strength, endurance, and confidence. 
But it's not just about running. The holistic approach of this training plan gives you trackers and planning sheets that covers nutrition, hydration, race day planning, habit tracking, sleep health, and so much more! Because what you track is what you are able to manage well! 💪
Cross the marathon finish line with pride, knowing you've overcome challenges and grown mentally and physically. The time to make your marathon dream a reality is now.
🌟WITH THIS 16 WEEK BEGINNER MARATHON TRAINING PLAN YOU WILL GAIN: 
A gradual and structured approach to build your running endurance and strength
Increased confidence as you progress from a beginner to a marathon finisher
Improved physical fitness and overall health
Mental resilience and determination to overcome challenges
The opportunity to experience the incredible sense of accomplishment and triumph that comes with crossing the marathon finish line
An unforgettable journey of personal growth and transformation
The satisfaction of turning your marathon dream into a reality
✨PLUS you will receive a series of Marathon Training Tools & Trackers that includes:
a Before and After Body Assessment
a Workout Schedule Planner
Daily Planning Sheet
Weekly Running Planner
Monthly Running Planner
Miles Tracker
Running Shoe Log
Running Routes Trackers/Planner
Habit Tracker
Race Day Journal Sheet
Favorite Quotes Sheet
Running/Life Vision Board Sheet
Race Travel Planner
Weight Loss Tracker
Weekly Meal Planner
Monthly Meal Planner
Daily Calorie Tracker
1 Month Water Tracker
Vitamins & Supplements Tracker
Sleep Tracker
Running Spend Log
Doctor/Healthcare Visit Overview Sheet
Important Dates Year Overview
WHO THIS TRAINING PLAN IS FOR:
Beginner runners who can run about 4 miles
First time marathon runners
Those who want to run/walk a marathon
Veteran runners
WHAT YOU CAN EXPECT IN THIS TRAINING PLAN:
3 easy base runs a week
1 longer run a week
Alternating weeks that include an increase in long run miles to allow for more rest and recovery (super critical for first time marathoners!) 
Optional cross training day
Optional running workout modifications
 Note: This plan comes in both MILES & KILOMETERS.
You Will Receive
Share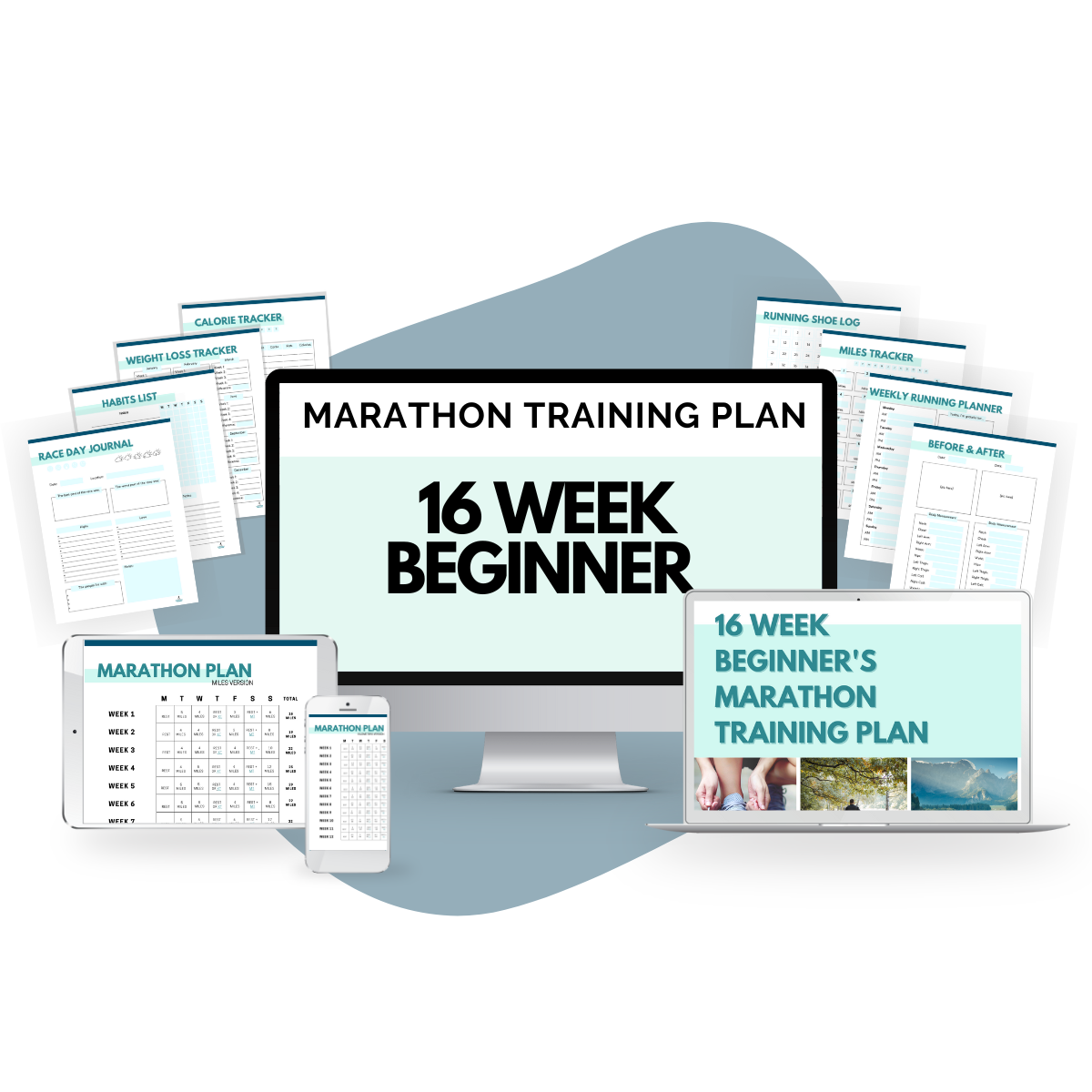 Love It All
I have never been disappointed in any training plans that I have purchased! Hardest part is putting your shoes on and getting out the door🤪