Mindset Training Plan for Marathoners
Regular price

$0.00

Sale price

$27.00
Build a Strong Marathon Mindset So that You Can Be Unstoppable With This Weekly Mindset Training Plan for Marathoners!
This training plan will help you push through the hardest parts of your marathon training and race by training your mind to work for you instead of against you. 
It includes 20 weeks of mental and mindset training prompts, techniques, tools and strategies to help you conquer any negative talk, self doubt or lack of motivation surrounding your running and training. 
You might have heard that the marathon is 20% of a physical test and 80% of a mental test. 
Why then do we put in all of the physical training but do nothing to train our minds, the very thing that can determine whether or not we are strong enough to complete a marathon!
You are putting in so much time and energy into your marathon training but if you leave mindset training out of the picture, you might find yourself sitting on the curb at mile 22. 
WITH THIS MINDSET TRAINING PLAN FOR MARATHONERS YOU WILL …
✅ Push past fatigue during your long training runs and especially the final miles of the marathon race
✅ Gain a mental edge over your negative self-talk, doubt and even other runners (just wait and see how many runners you are passing up in the last few miles!)
✅Have the self-confidence needed to execute your goals and run the race you envision for yourself because you have trained your mind for it! 
✅ Get to the finish line with confidence, radiating positivity and enthusiasm!
Did you know? This training plan is included in the Run Your First Marathon Training Program! If you're a first time marathon runner looking for a comprehensive marathon training plan and schedule, this bundle is for you!
This Mindset Training Plan for Marathoners is fully compatible with any marathon or half marathon training schedule. 
You Will Receive
Share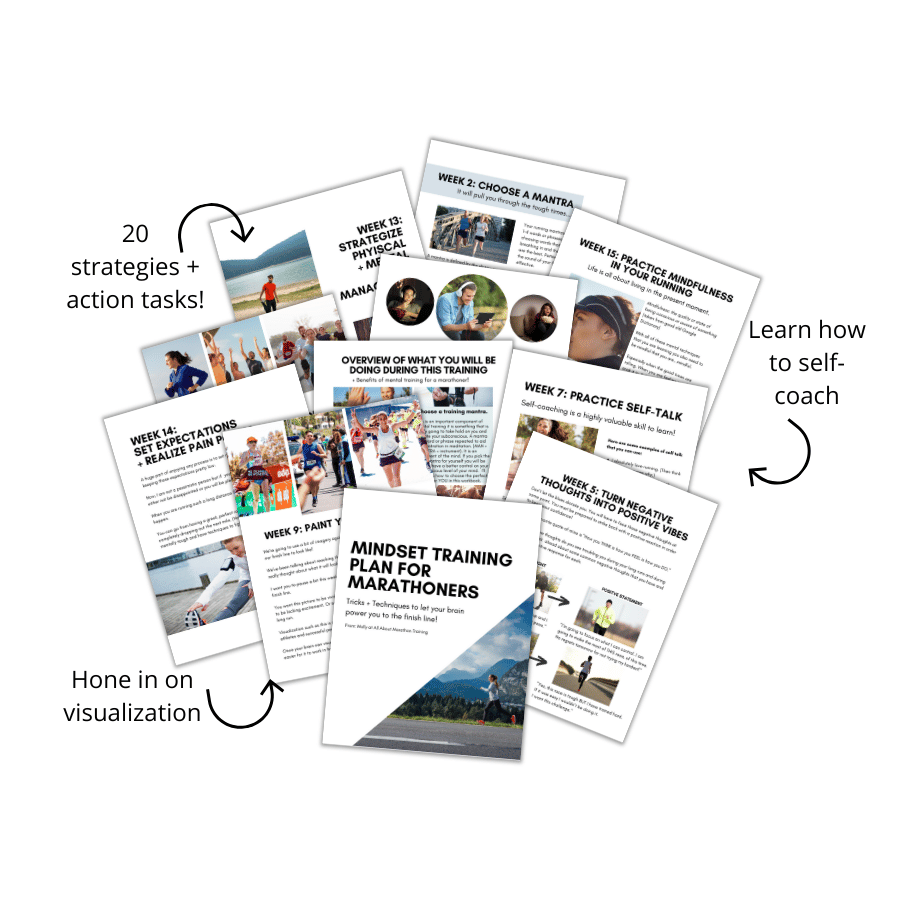 I love this plan!
It's so full of information about physical *and* mental training. One of my favorite aspects of this program is the mental training. I've never seen a marathon training program that offered mental training exercises and that set aside a "mental training" day each week. I am pretty slow and tend to get discouraged easily, so mental preparation is just as important as the physical work for me.